| | |
| --- | --- |
| | Updated: Feb 20, 2022 |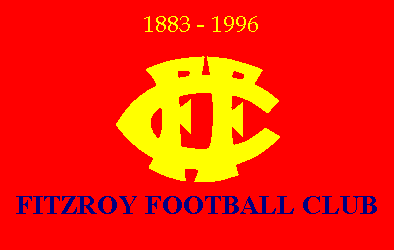 Farewell to "The Roys",
who played their last game after 113 years in 1996.

Only Fitzroy people can appreciate what that really means.....

The fight is over, and it's been a good one.
How did they survive ten years since 1986 ?
Funny, people ask how can you support such a team,
a team that has lost most of it's latter games.
Easy, if you're a Royboy, you stay a Royboy, the wins are exceptionally special.
Success to a Royboy is not measured in terms of Premierships
(we have eight, of course)
but in terms of the fight (and the bloody RIGHT) to survive,
standing up long after the knockout blow has been delivered
(and there were many).

The team may be gone, but the Spirit will live on.


---

"Once a Royboy, always a Royboy"

"We are the boys of old Fitzroy,
We wear the colours Maroon & Blue,
We will always fight for victory,
We will always see it through,
Win or lose, we do or die,
In defeat, we always try,
FITZROY, FITZROY, THE CLUB WE HOLD SO DEAR,
Premiers we'll be this year ! "


---

For the record, my best three Fitzroy games were:

1.
The 1986 Elimination Final against Essendon.
This was a game against the odds but we got up by a point. Never forget that great goal, Micky Conlan. We went on to defeat the Swans the following week, but the Essendon game was The Game. If you like, it was our Premiership in the our last 52 years.

2.
Round 11, 1992 vs Collingwood at Princes Park.
Lead well all day, lost the lead in the last minute of the game (ironically it was Perty who kicked the Collingwood goal). But along came Roosy to snap one over his shoulder in the dying seconds. Roys by 3.

3.
Round 15, 1983, Fitzroy play North Melbourne
who are on top of the ladder and thrash them by 150 points, 34.16 to 10.10. Remember, this wasn't playing a bottom side, North were on top at the time. Superboot and Matty Rendell and Gary Wilson were great.

(Don't forget, The Roys also held the League Record Score (36.22 238) for 13 years (1979-1992) after defeating Melbourne by a whopping 190 points at VFL Park (the winning margin remains a record).


---


My best four Fitzroy players were:

1.
Bernie Quinlan, the Superboot, just magical to watch
2.
Kevin Murray, the Bulldog himself
3.
Garry Wilson, Captain Courageous
4.
Paul Roos, "Roos Roos Roos"

and thanks to all the other Royboys who donned the jumper and did us proud.
---
Fitzroy Football Club
Fitzroy Reserves Premiership 1989
Fitzroy Football Club Merchandise
Fitzroy Football Club Statistics
Fitzroy's Fabulous Century: The 100 Greatest Victories, 1897-1996
Fitzroy-Brisbane Lions Historical Society
Brisbane Lions Football Club
BigFooty Fitzroy Forum
BigFooty Brisbane Lions Forum
In Defeat We'll Always Try: the death of the Fitzroy Lions
---
BLACKSTUMP
SITEMAP QUICKLINKS
-
HOME
-
FACEBOOK
-
PRIVACY POLICY

** Links on this page last verified Feb 20, 2022 **